ro
Beavercreek Office Space Prices
We want to make your life easy. You pay us a flat amount and we include everything below.
High-speed Wireless Internet Access (15 mbps down, 2 mbps up)
Heating / Air Conditioning
Water / Sewage / Trash
Cleaning of common areas
Dedicated suite / office number / mailing address
Mail sorting
Parking
If you scroll down past the prices, you'll see a the floor plans. Click on the red arrows to see pictures.
---
Lower Floor
| Room # | Dimensions | Square Feet | Availability | Price (month-to-month) | Price (1 year lease) |
| --- | --- | --- | --- | --- | --- |
| Room 1 | 13 x 22.5 | 292 sq ft | Rented | - | - |
| Room 2 | x 12 | 156 sq ft | Rented | - | - |
| Room 3 | 13 x 22.5 | 292 sq ft | Rented | - | - |
| Room 4 | 13 x 12 | 156 sq ft | Rented | - | - |
| Room 5 | 13 x 12 | 156 sq ft | Rented | - | - |
| Room 6 | 13 x 54 | 702 sq ft | Rented | - | - |
| Room 7 | 13 x 14 | 182 sq ft | Rented | - | - |
| Room 8 | 13 x 28 | 364 sq ft | Rented | - | - |
| Room 9 | 13 x 13.5 | 175 sq ft | Rented | - | - |
| Room 10 | 17 x 34 | 578 sq ft | Rented | - | - |
| Room 11 | 13 x 17 | 221 sq ft | Rented | - | - |
Upper Floor
| Room # | Dimensions | Square Feet | Availability | Price (month-to-month) | Price (1 year lease) |
| --- | --- | --- | --- | --- | --- |
| Room 12 | 8.5 x 11 | 93 sq ft | Rented | - | - |
| Room 13 | 10 x 16 | 160 sq ft | Rented | - | - |
| Room 14 | 10 x 16 | 160 sq ft | Rented | - | - |
| Room 16 | 10 x 7.5 | 75 sq ft | Available | $220 | $195 |
| Room 17 | 10 x 7.5 | 75 sq ft | Available | $220 | $195 |
| Room 18 | 10 x 7.5 | 75 sq ft | Available | $220 | $195 |
| Room 19 | 10 x 9 | 90 sq ft | Available | $220 | $195 |
| Room 20 | 10 x 16.5 | 165 sq ft | Rented | - | - |
| Room 21 | 13 x 15 | 195 sq ft | Rented | - | - |
| Room 22 | 8 x 9 | 72 sq ft | Rented | - | - |
| Room 23 | 13 x 10 | 130 sq ft | Rented | - | - |
| Room 24 | 13 x 16 | 208 sq ft | Rented | - | - |
| Room 25 | 17 x 10 | 170 sq ft | Rented | - | - |
| Room 26 | 8 x 10 | 80 sq ft | Available | $220 | $195 |
| Room 27 | 17 x 10 | 170 sq ft | Rented | - | - |
| Room 28 | 8 x 13.5 | 108 sq ft | Rented | - | - |
| Room 29 | 8 x 13.5 | 108 sq ft | Rented | - | - |
| Room 30 | 16.5 x 13.5 | 222 sq ft | Rented | - | - |
| Room 31 | 8.5 x 13.5 | 115 sq ft | Available | $240 | $215 |
Click the red arrows below for pictures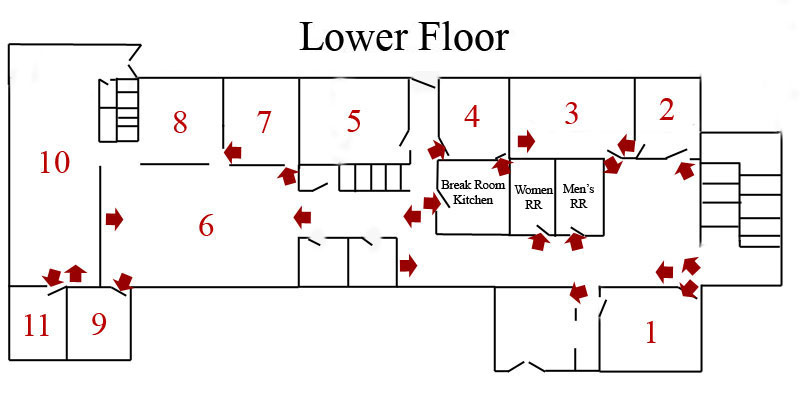 ---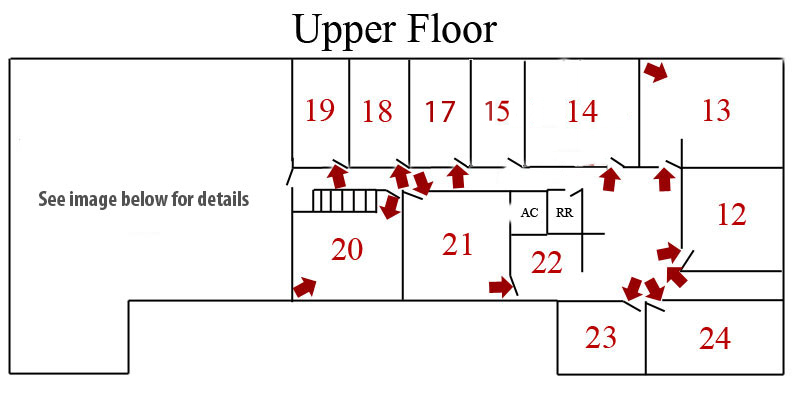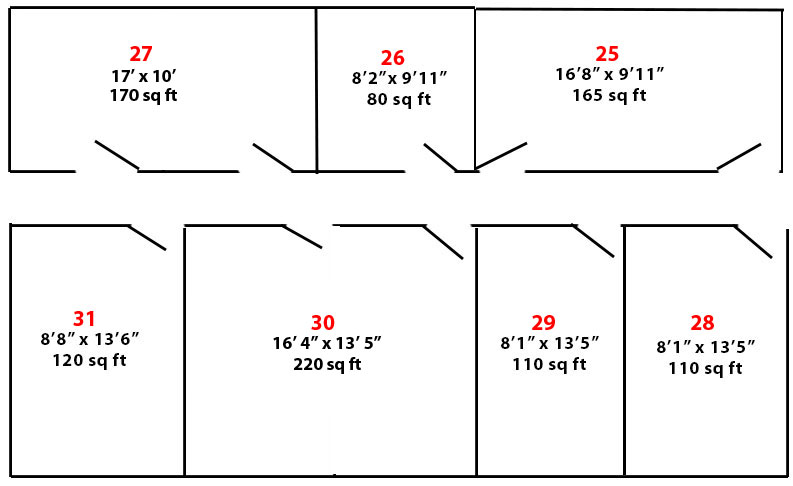 ---
Beavercreek Office Space @ 1905 Woods Dr Beavercreek OH 45432
Copyright Omni Online 2018